Overview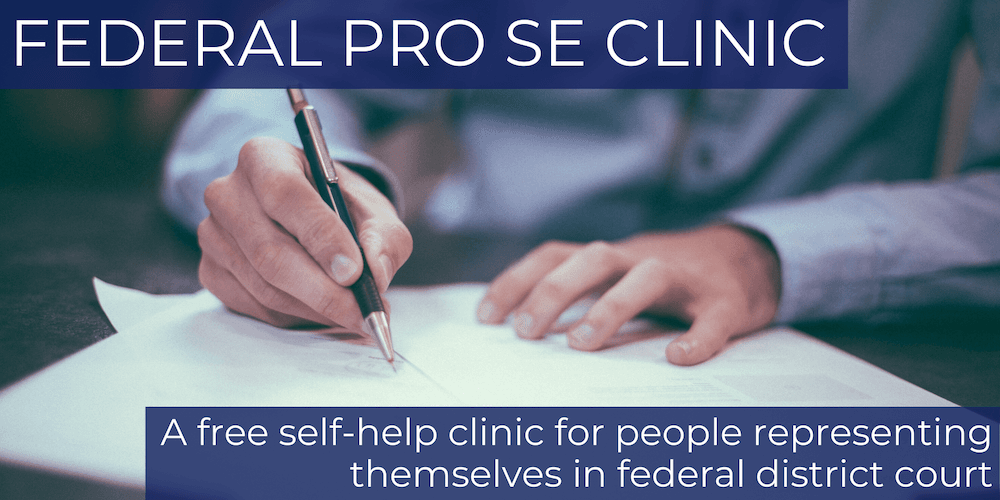 CORONAVIRUS UPDATE – CLINIC CLOSURE
Due to Coronavirus concerns, the Federal Pro Se Clinic in Los Angeles will only be providing assistance remotely. Please contact us via online and phone intake (see below for contact information).
Need to request an extension to file an answer or another document?
¿Necesita solicitar una extensión para contestar una demanda o otro documento?
ABOUT THE CLINIC
Are you thinking about filing a case in federal court? Are you already representing yourself as a plaintiff or defendant in the United States District Court for the Central District of California and need legal advice?
Public Counsel's Federal Pro Se Clinic can provide free legal assistance to people representing themselves in the U.S. District Court for the Central District of California.
The Clinic can:

Help you prepare federal court documents.
Provide legal advice on civil procedure in the Central District of California.
Supply forms and guidesto help you navigate the process of litigating or defending a case in federal court.
The Clinic cannot:

Assist with criminal, bankruptcy, habeas, appeals, or any state cases.
Provide representation in court.
Find an attorney to represent you.
To request our services and make an appointment:
Call our message and information line at: (213) 385-2977 ext. 270 and leave a detailed message.
Alternatively, you may fill out the online intake application below. You may also wish to consult our forms and guides (here) for the answers to some common legal questions.