Manuel and Maribel Martinez came to this country seeking sanctuary and looking to build a better life. While they found opportunity, tragically, their family also experienced a horrific crime. When their daughter was four years old, a stranger abducted and assaulted her and kept her in Griffith Park overnight.
The family was devastated and did everything possible to assist in the law enforcement investigation. Gratefully, their daughter was found and returned the following day. She is now a thriving young woman, wife, and mother who continues to receive the love and support of her family.
Manuel and Maribel came to Public Counsel many years after this crime seeking immigration help. We determined that because their family had survived a serious crime, they were eligible for a special form of immigration relief called a U visa. We expected the process to be straightforward because there was clear documentation of the crime, and the family had fully cooperated with law enforcement. However, we encountered unexpected challenges along the way.
During the course of representation, Manuel learned that he had a warrant for his arrest stemming from a case of mistaken identity in San Diego, California. Even after the court terminated his matter, providing indisputable evidence that it had mistaken his identity with another person, the immigration service denied his U visa application, citing another low-level offense in his past and casting doubt on his credibility.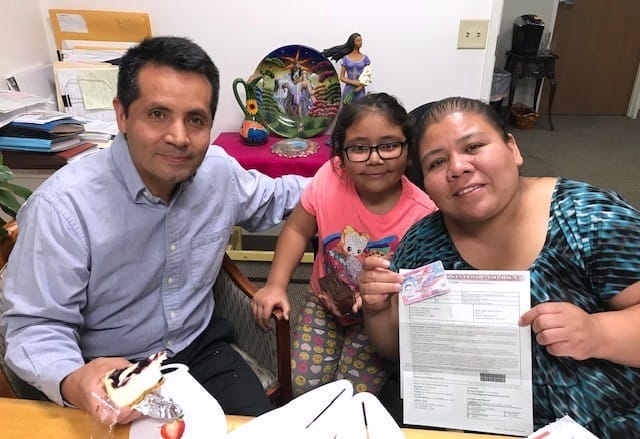 Public Counsel submitted a motion to reopen Manuel's case and, after a protracted battle, finally prevailed in obtaining immigration relief for Manuel and Maribel, allowing them to live freely in the United States. What should have been a two-year process at that time had turned into a five-year ordeal.
Miguel and Maribel were courageous and patient throughout. Recently, Maribel shared: "Our attorney and her team never gave up. Gina always gave us hope and said, 'we're going to win the case; we're going to appeal again.' Public Counsel has become a part of us. They put passion into what they do, and we are a result of that."
We recently successfully represented Manuel and Maribel in their applications for lawful permanent residence. This year, the couple of five children obtained their green cards, which finally puts them on track to becoming U.S. citizens. They are relieved and excited for the future of their family!