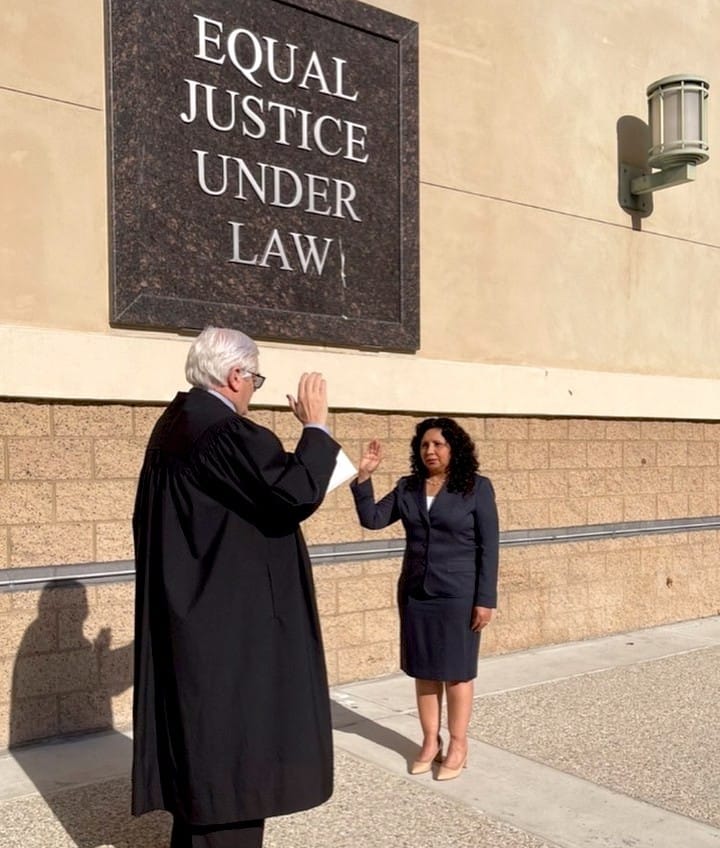 After more than 20 years of practicing bankruptcy law, Magdalena Reyes Bordeaux, a senior supervising staff attorney with Public Counsel, was sworn in this week as the first Latina on the Bankruptcy Bench for the Central District of California. During her time at Public Counsel, Maggie has been an incredible colleague, a tremendous advocate for her clients, and has helped to elevate critical issues related to bankruptcy and debtor rights. We are so incredibly proud and excited for her!
Maggie has led and strengthened Public Counsel's Debtor Assistance Project for the past twelve years. The program provides bankruptcy and bankruptcy-related legal assistance and representation to thousands of individuals and families every year, and is the country's largest bankruptcy pro bono program.
One of Maggie's more notable victories involved working with Greenberg Glusker pro bono attorneys John Mellisinos and Keith Patrick Banner, to help a student-teacher discharge over $300,000 in student loan debt, which had ballooned over nearly three decades due to interest, fees, and penalties.
Throughout her career, Maggie has worked extensively with the Bankruptcy Courts for the Central District of California, Office of the United States Trustee, and private bankruptcy attorneys on bankruptcy matters affecting the Courts. She served as an appointed member of the 9th Circuit Judicial Conference Executive Committee, was an adjunct professor at Loyola Law School, and has written numerous articles on bankruptcy issues – including two featured as cover stories for L.A. Lawyer Magazine. She is a frequent speaker at bankruptcy educational panels and has received several awards recognizing her work and scholarship in bankruptcy law.
Congratulations, Judge Reyes Bordeaux! It's been such an honor to work alongside you at Public Counsel, and we will miss your passion, expertise, and leadership. We are excited for this next chapter in your career, and our nation is fortunate to have such an excellent attorney, with a unique and diverse public interest background, on the federal bankruptcy bench.