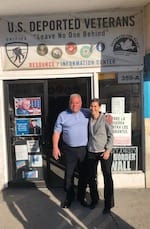 Joel Diaz Rincon returns home after nearly 20 years, marking the second veteran to have his deportation overturned through the Deported Veterans Project
LOS ANGELES, CA, March 4, 2020 — Today, Joel Diaz Rincon, a 51-year-old deported US veteran, re-entered the United States after nearly 20 years of being separated from his family, including his children and grandchildren, based on a legally erroneous immigration court decision. Joel is the second veteran to return home as part of Public Counsel's Deported Veteran Project, funded by the state of California, which provides legal assistance to deported veterans.
Prior to his deportation, Joel had lived in the U.S. since he was 12 years old. He graduated high school in 1987 and enrolled in college with dreams of becoming an accountant. Unfortunately, due to financial reasons, he was unable to pursue his degree. In 1991, he enrolled in the U.S. Marine Corps, just months after becoming a lawful permanent resident, in hopes to give back to the country that had welcomed him and his family. Three years later, he was honorably discharged for medical conditions after a fellow soldier accidentally shot him in the leg while stationed in Japan.
After his discharge, Joel was devastated. He was later convicted of a theft offense, and in 2001, he was deported to Mexico, where he knew no one and had nowhere to go. He struggled with being away from his family, especially his U.S.-citizen daughter, who was just six years old at the time of his deportation. He attempted to enter the U.S. three times over the following years to be with his family, but each time he was deported. During his nearly 20-year banishment, Joel continued to work steadily to make ends meet all while fighting to return to the country he calls home.
"The biggest challenge I've had to face with my deportation is learning to live without my family," said Mr. Diaz-Rincon. "But today, I am being allowed into the United States, into the country I swore to protect. I still can't believe it."
Years after his removal, new case law clarified that theft offenses like Joel's could not provide a basis for permanently deporting a lawful permanent resident. Upon meeting Joel, Public Counsel filed a motion to reconsider his removal case. On January 27, 2020, an immigration judge vacated his removal order and terminated proceedings. Joel has now been restored to Lawful Permanent Resident status nearly 20 years after his removal.
"We need a system that gets it right the first time," said Helen Boyer, Staff Attorney at Public Counsel. "Joel's story highlights the grave injustices of the immigration system and raises the question of just how many people – including veterans – have suffered permanent separation from all they know and love based on faulty legal decisions. It is nearly impossible to know because once deported, access to quality legal assistance is virtually non-existent."
While the government does not track the total number of deported veterans, there are more than 300 known cases, according to reports by the ACLU.
"Non-citizen veterans – like all veterans – deserve a chance at rehabilitation here in the United States," said Talia Inlender, Supervising Senior Staff Attorney at Public Counsel. "They fought for us, and we should fight for them."
###
Public Counsel is the nation's largest pro bono law firm. Through a pro bono model that leverages the talents and dedication of thousands of attorney and law student volunteers, along with an in-house staff of more than 75 attorneys and social workers, Public Counsel annually assists more than 30,000 families, children, immigrants, veterans, and nonprofit organizations and addresses systemic poverty and civil rights issues through impact litigation and policy advocacy.
Media Stories:
USA Today, "The U.S. wrongly deported a wounded Marine veteran in 2001. On Wednesday, he was allowed to return."
Univision, "Veterano deportado hace 20 años se reencuentra con su familia en EEUU."