Three Years After Sidewalk Vending Was Legalized in California and LA, Food Vendors Are Still Being Ticketed and Harassed by Law Enforcement
A new report by Public Counsel and the UCLA School of Law Community Economic Development Clinic uncovers how little-known and poorly designed food laws make it functionally illegal for most street vendors to sell food, despite landmark efforts to legalize it. In 2018, the State of California and the City of Los Angeles passed legislation to legalize street vending. Yet, three years later, the report states, "most sidewalk food vendors remain exposed to the daily threat of ticketing, harassment, and fines, which perpetuate an unending cycle of criminalization and poverty."
The City of LA began issuing its vending permits in 2020, yet it has only issued 165 permits to sidewalk food vendors, even though there are an estimated ten thousand eligible vendors. The report, "UNFINISHED BUSINESS: How Food Regulations Starve Sidewalk Vendors of Opportunity and What Can Be Done to Finish the Legalization of Street Food," found that a complex web of antiquated and ill-adapted state and local laws are to blame for this mismatch in policy aspirations versus on-the-ground reality. For example:
A food vendor seeking a permit from LA County must navigate multiple offices, secure multiple prerequisite documents without adequate support, and follow a dizzying process only explained in English. Selling unpackaged food incurs a minimum of $10,000 in startup costs, plus $5,000 in annual fees. For workers earning an average of only $15,000 per year, this amounts to a ban.
A sidewalk vendors' carts must meet equipment standards that were developed for large food trucks. This includes requirements for integrated multiple-compartment sinks, plumbing, ventilation, refrigeration, and high-capacity food storage. These design requirements mean that the few carts available on the market cost thousands of dollars, and many are "too large for most sidewalks and too heavy to push."
The California Retail Food Code (CRFC) bans slicing fruit or reheating or hot-holding previously prepared food on an unenclosed food cart, which "prohibits the core functions of two of the most iconic southern California street vending operations—the fruit cart and the taco stand."
The report proposes numerous reforms to reduce regulatory barriers and promote safe sidewalk food vending and comes at a critical moment as street vendors have been financially devastated by the pandemic, yet they remain barred from entering the formal economy and are frequently targeted by law enforcement. Raids are often conducted by sheriff's deputies who have no business enforcing food safety rules. The report includes stories and perspectives from sidewalk vendors attempting to navigate the County's permitting system, demonstrating that instead of helping vendors break down barriers, local officials punish violations with tickets and cart confiscation—depriving vendors of their livelihood.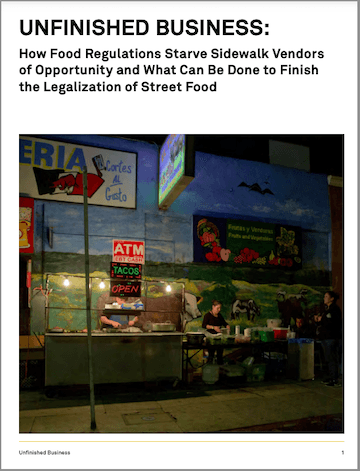 EXECUTIVE SUMMARY – UNFINISHED BUSINESS: How Food Regulations Starve Sidewalk Vendors of Opportunity and What Can Be Done to Finish the Legalization of Street Food
FULL REPORT – UNFINISHED BUSINESS: How Food Regulations Starve Sidewalk Vendors of Opportunity and What Can Be Done to Finish the Legalization of Street Food
APPENDIX 3 – DEPARTMENT OF PUBLIC HEALTH ACTIONS TO INCREASE ACCESS TO SAFE SIDEWALK VENDING IN LA