Irell & Manella Created the Chair in Public Interest Law in 2012 as Part of Its Commitment to Pro Bono Work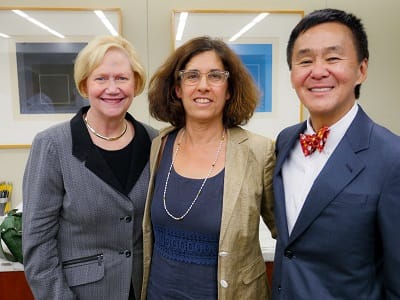 Public Counsel, the nation's largest pro bono law firm, announced today the appointment of Judy London to the Irell & Manella Chair in Public Interest Law. London currently serves as the directing attorney of Public Counsel's Immigrants' Rights Project.
"Judy London is a leading advocate for the rights of immigrants and refugees. Through her work, she has helped to save and improve the lives of countless immigrants who contribute positively to the life of our community and nation," said Margaret Morrow, President & CEO of Public Counsel. "Given her national reputation in the field, and the significant contributions she has made in the area of immigrants' rights, we are delighted to appoint her to The Irell & Manella Chair In Public Interest Law. In this position, Judy will be able to continue her crucial work for years to come. We are incredibly grateful to Irell & Manella for establishing this chair. The firm's generosity demonstrates its commitment to ensuring access to justice for underserved communities, and will strengthen Public Counsel as it works toward this goal in the future."
As Director of the Immigrant Rights Project for more than 15 years, London has expanded Public Counsel's Special Immigrant Juvenile Status work, initiated a detention program to ensure that immigrant detainees in the region know their legal rights, and continued to increase pro bono representation for asylum-seekers and crime victims seeking relief under the Violence Against Women Act and the Victims of Trafficking and Violent Crime Prevention Act. She was previously the legal director of the Central American Resource Center in Los Angeles, where she was instrumental in securing the enactment of the Nicaraguan and Central American Relief Act. London has also expanded advocacy for undocumented children.
London is an adjunct professor at UCLA School of Law, where she teaches a clinical course on immigration law, which focuses on the representation of asylum-seekers. She earned her law degree from UCLA School of Law in 1990 and her undergraduate degree from Stanford University in 1985.
The Irell & Manella Chair In Public Interest Law was established in 2012 by Irell & Manella as part of the firm's commitment to pro bono work and in support of Public Counsel and its mission. The firm has a long-standing relationship with Public Counsel, and its attorneys regularly partner with the organization on numerous pro bono matters.
"We created this chair in recognition of the great work undertaken by Public Counsel whose impact and contributions to society cannot be overstated. Judy exemplifies what this chair is meant to honor and support," said Morgan Chu, an Irell & Manella partner and the longest-serving board member at Public Counsel. "We are in awe of the collective efforts of Judy and all the dedicated attorneys at Public Counsel and are honored to do our small part."