Audrey Irmas Project for Women and Girls Rights
Overview
At Public Counsel, we know that advancing equality for women and investing in their futures strengthens families and improves health, education, and general prosperity for entire communities. Yet pervasive sexual harassment, discrimination, wage theft, violence, and other barriers continue to unfairly burden women, especially lower-wage workers, women of color, transgender women, and students, and prevent them from reaching their full potential.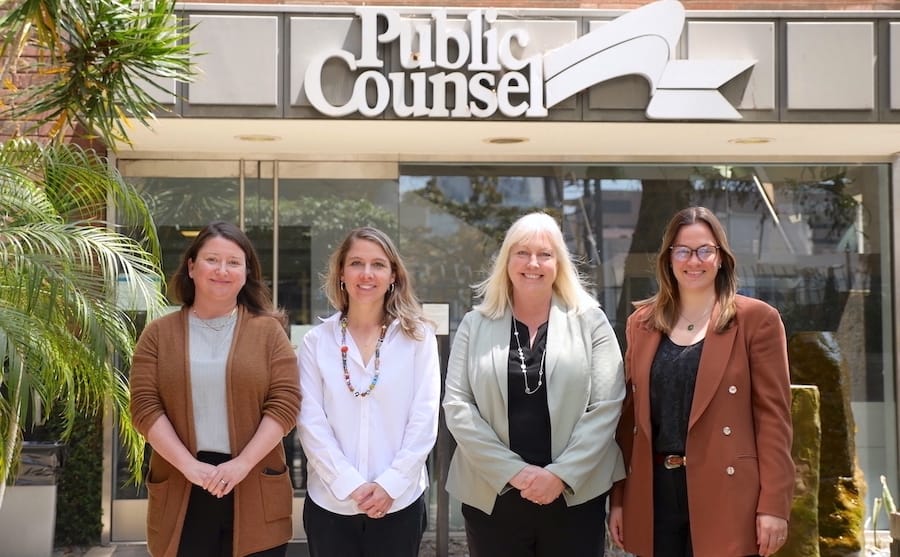 Public Counsel's Audrey Irmas Project for Women and Girls' Rights works to create more equitable and just conditions at school and in the workplace for women, girls, and people of all gender identities because we believe that everyone deserves the chance to learn, grow and thrive with safety, dignity, and respect.
Working at the intersection of gender, race, disability, and socioeconomic status, the Audrey Irmas Project for Women and Girls' Rights advances worker justice and education equity through a combination of direct legal services, policy advocacy, impact litigation, and community education. We are proud members of the Coalition for Work & Family, the Legal Network for Gender Equity, Stronger California, and the Fair Workweek Coalition – Los Angeles.
Join us in our mission to advance opportunity and justice for women and girls in our communities.
WHOM WE SERVE
We provide information and free legal services to low-income, cis- and transgender women, girls, and non-binary individuals in LA County relating to discrimination, sexual harassment/assault, pregnancy/parenting, and other gender justice issues at work and school. Through policy advocacy, community education, and impact cases, we seek to advance equality and opportunity for women, students and low-wage workers in Los Angeles and statewide.
To get information or help with a legal rights issue, visit our services page: